Main Panel:
Guests:
First Half Only:
Second Half Only:
---
First Half
"It will be intense indeed, all that star power, teams have so much to prove in this situation and they have these elite level championship expectations. They'll both want to send a message to one another. I expect a playoff atmosphere at Staples Center opening night" – Hill on the LA rivalry
"The Clippers are trying to prove they're the marquee franchise in LA, not the purple and gold" – Elhassan
Trust Celtics or 76ers more?
Elhassan: Sixers
"Boston's loss of Al Horford is Philadelphia's gain because they lost Jimmy Butler"
Hill & Nichols:

Expectations for Harden and Russ this season?
"They will figure it out how to co-exist and respect one another. This team, if they can figure out and get it together, they have a chance to really dangerous with two spectacular guys thriving in that system of Mike D'Antoni" – Hill
Where do Jazz rank out West?
"The question I ask is: How quickly can their learning curve occur? You want to get ahead of the curve. How quickly they come together is going to be pivotal" – Elhassan
Rather have Rockets or Warriors roster?
Elhassan: Warriors
"Not necessarily because the talent is so much better, but the fit. I'm big on fit. You have guys doing roles and those roles all fit with one another"
Hill: Rockets
"Westbrook wants to prove he can win"
New Jazz PG, Mike Conley Jr. with Rachel:
---
Rachel Nichols' sit down with NBA Commissioner, Adam Silver and Chairman and CEO of The Walt Disney Company, Bob Iger!
Highlights:
On why Disney wanted to do a collaboration with the NBA?
"We have a great partnership with the NBA. We actually consider NBA family to us" – Iger
"Who wouldn't want to part with Disney? The ultimate goal would be to have many of these [NBA Experience venues] and partnership with Disney around the world" – Adam Silver
On why the NBA and Disney are a good match:
"There's never been more interest in this sport and it goes well beyond what happens on the court. Developments in the sport, news about the sport are 24/7, 12 months a year and I think that says a lot about the health of the sport and it's also one of the reasons why it's such interest to us because it is such interest to our audience" – Iger
On the Jr. NBA program and watching it unfold:
"It was incredible. We had 350 of the best 13 to 14 year boys and girls throughout the world competing" – Adam Silver
On what their favorite part about the NBA Experience:
"I've always wanted to dunk a basketball and this gives me an opportunity to do it without making a fool of myself" – Iger
"It's those skills of where you're actually holding a basketball with all the incredible technology" – Adam Silver
Adam Silver on his wax statue at NBA Experience:
"It's a bit surreal. If it were up to me, I would have made it with hair, frankly"
---
---
Second Half
Will your 2020 dunk contest dream turn into reality?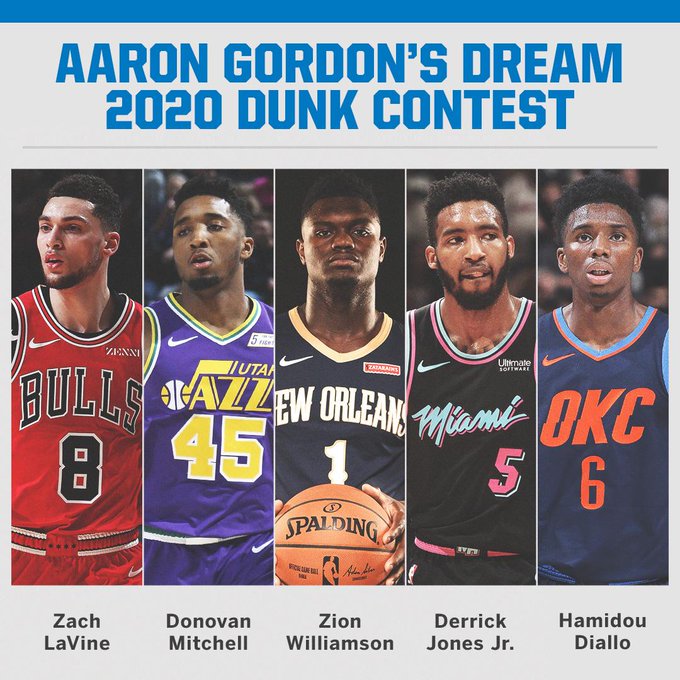 "I would love to. If I'm healthy, I'm going" – Gordon
Any chance Celtics fans don't boo Kyrie?
"There's going to be a lot of booing because of that promise, the chemistry issues that happened through the year and also, the Celtics have done a great job framing him as a villain. Boston fans are already going to believe he is a villain" – Elhassan
"It's not going to be a warm welcome. He's going to boogie, he's going to do what he does and get down" – Gordon
Expectations for AD's return to New Orleans?
"There's definitely going to be some boos. There's animosity towards him" – Gordon
"I can see a situation where they don't boo him if the Pelicans are playing well by a month or so in the season. If they're struggle, the boos are going to come out" – Elhassan
---
Bamba on how he'll be looking to step into year 2:
"I'm coming into year 2 with the utmost confidence"
Is there a Magic-Heat rivalry brewing?
Will play each other on March 4 on ESPN
"It's just bragging rights" – Gordon
"How many times did we beat them last year?" – Bamba
Magic won the regular season series last season, 3-1
Bamba on what he learned from his rookie season:
"I had no idea that I would actually wake up in a random city and not know where I am. That was the biggest adjustment"
Best homecoming games?
6 All-NBA players switched teams in the offseason
"Russell Westbrook going to face the Thunder is going to be great just because he's had such a long, loyal tenure with them. It's going to be competitive and rocking in there" – Gordon
"Kyrie at Boston. Those fans are fanatics. I want to see just how angry they're going to be" – Elhassan
---
"This team is loaded with veterans. He's coming into a situation as a No. 1 pick that most of the time guys don't get: he won't have to be the best player" – Elhassan
"He got to find his niche. I'm excited to see how he's going to develop in his first early year" – Gordon
---

NCAA amends "Rich Paul Rule"