Ish Smith on packing: "Feel like Noah's Ark"
Panel:
---
First Half
Jaylen Brown, Mike Scott disappointed with list of jersey messages
"The players have an opportunity to speak up, a stage and a platform to get things right before they go back to play. If you're out there and you don't feel like you're sending the right message, or something you're not agreeing to, then I don't think that that's showing that they're unified and that they're ready to come back and really Bring a lot of positivity back to the game. And that's what they they need if they're gonna come on a basketball court" – Pippen
"The league is trying to make positive change here and trying to do something where the players can use this platform. When I saw the list, I thought it was restrictive myself" – Windhorst
Bucks, Kings shut down practice facilities after positive coronavirus tests
"You've got players who are being put in a position to put themselves in harm's way. As a player, you have to think that you're putting yourself in some kind of jeopardy. If this virus does spread and it affects some of your top players on your team, then I don't think a lot of these teams are gonna feel very comfortable going forward or even putting their team at such risk" – Pippen
"The reason this is so disappointing is because part of the NBA's process here was to allow enough time for the players to build up. The reason they built so much time between when they elected to restart the season and it actually happening was because these guys hadn't touched a basketball in an in a couple of months in some situations. With more facilities closing before they even get to the bubble, some of the players are losing that time physically" – Windhorst
11 of 12 WNBA teams traveled to Florida in preparation for single-site season
Only the Indiana Fever are delaying their travel. They're waiting at least five days. The Indianapolis Star reported that the Fever had two players test positive
NBA Re-entry protocol fair?
"This is gonna be some of the most anxious moments that the players have. They may have to fly private down to Orlando. The complexities of the rules and the testing never cease" – Windhorst
"Being in the players shoes: I don't know if a championship is really worth it. You're gonna have players getting sick along the way. Is this gonna feel like a real championship or is this feeling like whoever stayed the most, healthiest were they able to win at the finish line?" – Pippen
"If guys are going down every round, the feelings about the championship will change but there are also a lot of people who feel like everything that a champion will have had to go through to get to that title to get to holding up that trophy might make it a more worthy title" – Nichols
---
Continuing the countdown to the restart of the NBA season:
If you missed plays 33-27:
#33 | #32 | #31 | #30 | #29 | #28 | #27
---
Raptors traveling early to Florida an advantage?
They were the one team granted permission to travel early because of the complications with trying to return to Canada from the US amid all of this pandemic, shutdowns and quarantines. They've been working out in Fort Myers, FL
"I thought they traveled early because they were the defending champs! I'm sure they still feel confident that they can get out of the East. I'm not gonna knock them for for losing Kawhi but I think that this team still has a lot of confidence and believe that they can get back to the finals" – Pippen
"The little experiment of the Raptors is a reason for everybody to feel optimistic. The fact that they're a little mini bubble is working and that they have generally stayed happy and positive is an example for the other 21 teams that are joining them in Florida" – Windhorst
NBPA VP Garrett Temple: "Imagine more than half the league have had second thoughts"
"I would be skittish too. The thing that has been shining through all of this is the belief that the NBA has designed the safest thing possible. That faith [for the players] is going to be what's tested the next few months down in Orlando" – Windhorst
"At the end of the day, I don't know if what they have is enough. Unless we're able to keep it out of this bubble that they built, it won't be a fair game when it comes to playing for an NBA title" – Pippen
"I understand all of the complicated feelings and it would be troubling if no one was having second thoughts. That meant you weren't taking this seriously enough" – Nichols
---

2007 – A young Rudy Gay with the nifty moves and throwing it down hard with two hands in NBA Summer League!
---
Second Half
Vogel on putting together travel party: "Miserable experience"
Lionel Hollins (Lakers) who is 66 years old, Jeff Bzdelik (Pelicans) who is 67 years old won't travel to Orlando
Impact of missing assistant coaches in Orlando?
"Their presence are important. They are so important in the locker room, on the sidelines & the practices. It's important to hear their criticism and their point of view of the game. But they bring a lot of positive feedback. The younger players always want to please those older coaches and make sure that they get a good rapport coming back from those coaches. They will miss those coaches to some degree" – Pippen
"A lot of those coaches don't just work with the players, they work with the head coach. They need an old head on the bench to keep them calm and give them advice. And that's one thing that these coaches are going to lose. It's one of the reasons why Frank Vogel stocked his staff with a highly experienced set of guys like Jason Kidd and Lionel Hollins was because he wanted their inputs. So it's just another thing that is going to make this journey so unique and complicated for the team that ends up winning it" – Windhorst
Issues with players not participating taking travel party spots?
Victor Oladipo will be traveling with the Pacers to Orlando, but he's not going to play and Wizards coach Scott Brooks said that Bradley Beal will travel with his team but is still undecided if he will play
"The Oladipo thing is hard to compute. The team and his trainer have said that he's in great shape, he was cleared to play and he's not afraid enough of the virus to not go. I don't understand why he couldn't come and get five on five play in Indiana. There's a piece of information that appears to be missing that nobody wants to talk about publicly. For Bradley Beal, if the Nets were fully healthy, he may not have come but the Wizards are all of a sudden now in the range of making the playoff play-in game" – Windhorst
"The way I see this: It's important for Beal and Oladipo to be part of their unit just because their leadership is needed, whether they're in uniform or not" – Pippen
---
Ranking NBA juniors by superstar potential by Kevin Pelton and NBA Draft Analyst, Mike Schmitz (E+)
---
Tatum already capable of being best player on championship team?
"I really do. It's been a breakout season for him. He started out this season on a mission and is showing some leadership. If the Celtics want to make a run, they have to rely on Tatum's ability to carry them offensively" – Pippen
"You've got to be that type of player [to win individual playoff games] and that is what Jayson Tatum is bred to be. This is the $100M question, whether we get the answer this playoffs or not, they're gonna sign him to a max contract in all likelihood in this offseason and they're investing him in their future. They're gambling that this is gonna be their guy" – Windhorst
Will Celtics small ball be more effective in Orlando?
"They're a very dangerous team. If there's any team that can get hot and come together, it's them" – Pippen
---

2007 – Rajon Rondo (Celtics) with the long distance three point shot to beat the quarter ending buzzer in NBA Summer League!
---
During this pandemic, The Jump has had conversations with some of the biggest names in the game. Here are some highlights of the memorable ones from the last couple months in…

Aces star expected to sit out
Liz Cambage expected to miss 2020 WNBA season (Medical Concerns)
Her agent says she is at "high risk" for severe complications if she contracts COVID-19
"This is a bummer. I certainly respect her decision but she is one of the absolute highlights of the whole league. You never know what's she's going to do on a night to night basis. But there will be other stars there to pick up the slack" – Windhorst
Elam Endings
Want to see more target score in NBA soon?
"No. It was a great thing to watch how it developed and panned out in the All-Star Game [this year]. I felt like it worked well but I don't want to see the game starting to change and guys start to play for that" – Pippen
Scrimmage Schedules
Three scrimmages enough for teams to be ready for season?
"This would be great. Three games is a way to test how things will roll out" – Pippen
"Everybody wants to plays. I don't know if were gonna see the stars play in all of these games. It's gonna be a relief to see it happen" – Windhorst
Biggest goal for Zion at age 20?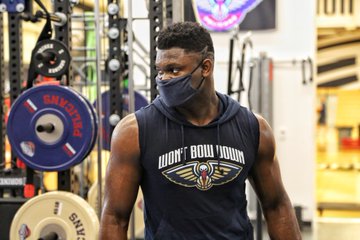 "Playoffs because it's within reach. He has elevated the Pelicans in just the 20 games he's played. I'm not expecting him to go out there and play 38 minutes. This is the beginning of an incredible moment for Zion to grasp and show everybody what kind of force he can be in this league" – Windhorst
"His future totally relies on him really taking care of his body. He should always stay in the best shape and never get out of shape" – Pippen

Sources: WNBA players to wear jerseys with names of women killed, per Ramona Shelburne and Zach Lowe
"They're going to have an opportunity to speak on a level that no other players in the past have been able to stand at this level. They should take of advantage of it and make a difference. Everyone will be watching them" – Pippen