Scottie, wish you played baseball?
"Yes. I would love to play baseball. I could still be playing now" – Pippen
The panel on who they think deserves a 9-year contract in the NBA, if it existed:
"Giannis Antetokounmpo" – Nichols
"Paul George" – Pippen
"Luka Doncic" – Windhorst
Panel:
---
First Half
Monologue: Kawhi's brief, wonderful season in Toronto
---
Did Kawhi make right decision in free agency?
"I think he made the right decision considering he wanted to leave and come play in LA around his own family and his own people. It's given some parity into the West and now we don't who's going to be in the Western Conference Finals" – Pippen
"Kawhi had one of the most amazing summers I've ever seen in my lifetime. The way he executed in that free agency maneuver were as impressive from a player control standpoint as we've ever seen. I thought it was an incredible act. Never, ever underestimate Kawhi Leonard at anything" – Windhorst
Should Trae Young regret saying, "It's over" vs Heat?
Heat outscored the hawks 24-4 after Trae said "It's over"
"Yes. For sure. Especially the way the Miami Heat has been playing lately. You really can't talk trash until the time has expired on the clock because anything could happen as we've seen in the NBA" – Pippen
"On the Heat's court, always be careful saying that a game is over. I can understand where Trae Young is coming from. Atlanta has had a rough season, they've played over the last 7-10 days or so and this would have been a signature win for them" – Windhorst
"They didn't like winning in Minnesota. That's why they [his former Wolves teammates] didn't love Jimmy Butler. They wanted individual stats. Jimmy Butler is a winner" – Pippen
---
OTD in 2004 – Tim Duncan with the rebound, running in transition, while doing a crossover and strolling down the lane to finish the layup, plus the foul!
---

Have Dame's jab steps become more emphatic since Melo signed?
Dropped 31 points on 15 shots in a win vs the Knicks

Better circus shot?
Gary "Gary Harris" Harris:
Embiid:
Pippen: Embiid | Windhorst: Harris

More impressive: Duncan Robinson (10-14 from three vs the Hawks) or Davis Bertans (8-12 from three vs the Hornets)?
"Get Bertans on the trade market because he's in the last year of his contract" – Windhorst
"I love what the Wizards are doing. This is the most fun I've had watching the Wizards in years! It's a low bar" – Nichols

Jarrett Culver's little bro drops 100 in NAIA game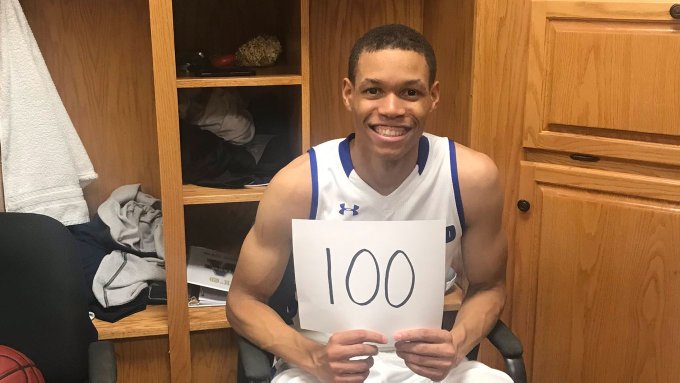 "I played in the NAIA, but I didn't score 100 points. I scored 47 points in the NBA, that's my high" – Pippen

Does Beal save his best dunks for Hornets?
Last season:
Moving on…
More confident in Jokic or Embiid rest of season?
"Jokic. The offense will have to run through him for the Nuggets to be successful" – Pippen
"One of the reasons Embiid's numbers are down is his minutes are down. The Sixers are specifically reducing his load so that he doesn't run out of gas at the end of the season. The Nuggets got the No. 22 offense and that is really related to their struggles with their most important offensive player, which is Jokic. He has not looked like himself and has been off. If he doesn't come back, they're not going to be the team that they thought they were going to be this year" – Windhorst
"I am worried about Jokic and how lethargic he's looked" – Nichols
---
How the Knicks grand plans fell apart this time by Ramona Shelburne and Adrian Wojnarowski
---
Second Half
Where did Knicks go wrong this time?
In the 20 years that James Dolan has owned the team, they have cycled through 12 coaches
"They really did have a plan that I thought was OK this time around. I thought it was on the right path, but where they got off line and they would probably deny it was when they believed that they were getting Kevin Durant. From that moment forward, everything got derailed. I honestly think the worst thing that ever happened to them was whoever put that bug in James Dolan's ear that they were going to get Durant" – Windhorst
"The Knicks have been in chaos for a long time. They've been going wrong for a long time. Other than drafting Porzingis, there's been nothing positive from them. To even put Kevin Durant on the roster, I don't think he would want to play with any of those players because he doesn't have a chance to win. The Knicks don't have any leadership and when you don't have any leadership or have one player that's willing to lead your team to want to win, then you're not going to go in any direction but down" – Pippen
How attractive of a job is Knicks president?
Via "The Lowe Post" Podcast:
"You just can't turn that salary down. But in terms of not having control, you're not going to have a lot of success there. It's a bad job. You're not going to be able to do what you want to do and be successful. In terms of going to New York and living there and living the best life, you can't beat it" – Pippen
"Because of the nature of the job, it's just attractive. But I don't know how you can convince yourself that you think that something would change that you would believe in. If they go hunting for a big name executive, they would probably get a guy who may have another job right now" – Windhorst
"The numbers I'm hearing for Raptors GM, Masai Ujiri to run the Knicks: $15M, $20M a year" – Nichols
---
Expect standing ovation for Kawhi?
"For sure. This guy did what every player wants to do: You want to come, you want to win and conquer. And that's what he did. There can't be any bad blood between him and the Raptors fans because he delivered something that they wanted for a long time" – Pippen
"I don't expect any boos here or there. He will be celebrated" – Nichols
Kawhi the greatest Raptor ever?
"Yes. Toronto needs to celebrate this 2019 championship forever and that means to me Kawhi's number goes in the rafters. Nobody wears that number again. It's not even a debate" – Windhorst
What Masai Ujiri's future with Raptors?
Has 2 years remaining on his contract
"There's a reason why he's saving it. He wants to see how things go in Toronto. He will serve that contract up (which expires in 2021). I would be concerned about this if I was the Raptors: I would be preparing for contingency plans if he decides he wants to leave" – Windhorst
"I still think he has some life there. There's still some success for that team in Toronto" – Pippen
Giannis on Bucks 15-game win streak:
Bucks 15-game win streak in jeopardy without Giannis vs Pelicans?
"They should beat them. But Giannis brings so much to the table. They're so comfortable with him being on the court" – Pippen
"One of the reasons why they're on this win streak is because the way they're designed really, really fits Giannis. It complements them defensively and offensively" – Windhorst
---
OTD in 2009 – Corey Brewer with the monster dunk on Derek Fisher!
---
Tatum have a real shot at being an All-Star?
"Yes. He's playing great. This has been a great breakout year not having Kyrie around. He's getting more freedom out on the basketball court" – Pippen
"If Tatum gets in, he'd be the third Celtic because I think Kemba Walker and Jaylen Brown are deserving. The Eastern Conference All-Star situation is shaky. He's not my top 2 Celtic and it's not an insult to him, the other guys on his team have done really well" – Windhorst
Rockets at Cavs
Over/Under 50 points for Harden vs Cavs?
"Over" – Windhorst
"Over" – Pippen