Think Peanut Butter & Jelly are sad about missing the playoffs?
Panel:
---
First Half
Monologue: Did Jamal Murray save the Nuggets season?
It was particularly devastating for Murray who had been training for that moment since he was literally a baby:
Jackie MacMullan's piece on Jamal Murray
Error
This video doesn't exist
Fast forward to now, his 3rd year in the NBA:
Error
This video doesn't exist
Coach Mike Malone on what he told Murray at halftime:
Error
This video doesn't exist
T-Mac:
"It did take maybe the hottest guy we're going to see in the hottest stretch of the whole post season. It wasn't settled until he did that" – Windhorst
"When I look at the playoff matchups, they are not a number two seed They are not as strong as a number 2 seed in the Western Conference. It's a bad match up for them. San Antonio is the better team" – T-Mac
Should LaMarcus Aldridge be disciplined for hit on Gary Harris?
Error
This video doesn't exist
"It's a fine. No suspension" – T-Mac
"I will say that there a lot of people on Twitter who backed up Jokic's technique" – Windhorst
---

April 17, 2002 – Desmond Mason of the Sonics throwing it down hard on Stromile Swift of the Grizzlies!
---

Hezis We still sleeping on CJ's handles?

Caution; What does it take to entertain Gary Payton?

Balance; Better stepback?
Murray:

Dame:

T-Mac: Dame | Windhorst: Murray

Subtlety; Like the support from Raptors fans?
Error
This video doesn't exist
Moving on…
Kyle Lowry's bounce-back game a big deal?
"I feel like it's going to set the tone. When you getting paid $31M and you're an all-star and you're one of the leaders on your team, we expect you to go and play that way every night, not lay an a goose egg in the boxscore. He bounced back" – T-Mac
"What they need from Kyle is he needs to raise the floor. His bottom game has got to be better. We've seen him have these bottom games in the playoffs before. He can't have a zero game" – Windhorst
Kawhi stays with Raptors if they advance to _______________
"The Finals and win" – T-Mac
"A lot of people in the NBA think that Kawhi is outta there. But it's not because of anything that the Raptors did. He kind of wants to be on the west coast. The difficulty is that he doesn't really articulate his feelings to people. It's difficult for them to read who have spent everyday obsessing about it for months" – Windhorst
"This is a really pivotal playoff series for Toronto and their franchise. If this kid leaves and goes wherever he goes, I don't think you get a quality player like Kawhi Leonard in your franchise, unless [Pascal] Siakam can pan out that way, but you are not going to get that in free agency" – T-Mac
---
Second Half
Westbrook: "I've got to play better":
OKC have enough shooting to come back vs Blazers?
5-28 (16%) from three in Game 2
"It is recoverable. I think their role players will do a much better job of shooting the ball on their homecourt. This is dismal two games of shooting. " – T-Mac
"They have to do a better job of just getting to the free throw line and stop settling for three pointers" – T-Mac
"This is what their Achilles heel is so maybe we shouldn't be surprised" – Windhorst
Error
This video doesn't exist
Rather build around Russ or Dame?
It was unanimous: Dame
"Dame has been healthier, Russ has had multiple knee surgeries. If I'm ever betting on someone long-term, If I'm taking someone for the next 6-8 years, I'm taking the guy who shoots better because shooters always going to age better and Dame is the better shooter" – Windhorst
"For 82 games, give me Russ. Because nobody is gonna match his energy. When it comes to playoffs, I need my guard to be poised, for him to be able to knock down shots, great leadership" – T-Mac
"Russ has kind of declined a little bit in terms of his shot making. Before, he was pretty good at midrange jump shots. The accumulations of the injuries has really messed with his psyche a little bit" – T-Mac
Nichols:
"Russ, through the season, gives you energy. Dame has shown that everyday, he comes to work" – Nichols
Dirty screen on Dame from Steven Adams?
Adams showed very little remorse for it:
Error
This video doesn't exist
"Adams is a tough player. But I don't think he's a dirty player" – Windhorst
---

Brian Windhorst's handbook on coaching LeBron
---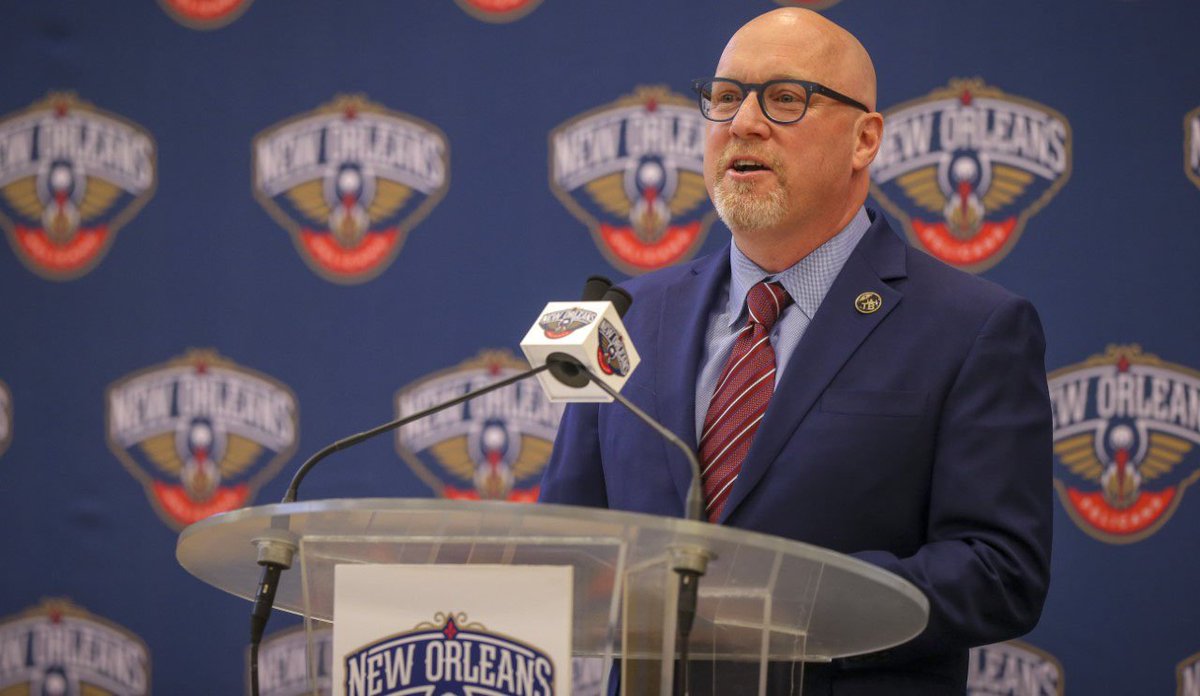 David Griffin introduced as Pelicans new executive VP of Basketball Operations
David Griffin: "You're either all the way in or all the way out" (Via NBA.com/Pelicans):
Any chance Pelicans can convince AD to stay?
Windhorst:
"I don't expect Rich Paul to change his position. They are all business" – Windhorst
"He has to get on his job like right now. I think he has a chance of keeping AD if he succeeds in free agency. That's the only way you can salvage him from leaving" – T-Mac
"The lottery [May 14] could change everything, if they get the No. 1 pick" – Windhorst
Pelicans have the 7th best chance to win the lottery (6%)
Nichols:
"If I'm AD, I'm signing that $235M" – T-Mac
Windhorst:
Warriors "60 minutes" interview make things more awkward?
Error
This video doesn't exist
"KD just seemed tuned out. Look at his body language. Where's that bad man that were so accustomed to seeing on the basketball court? KD has to show up in these playoffs" – T-Mac
Windhorst:
"We are going to see a lot of superstar free agency this summer, even after whatever happens with the Warriors" – Nichols
---

April 17, 1995 – Penny Hardaway with the alley-oop pass to Shaq, who dunks on 7'7″ Gheorghe Muresan of the Washington Bullets!
---
Cruise Control?
Expect Celtics to go up 2-0 vs Pacers?
"I expect the Pacers to play better, but the Celtics didn't play great either. They're going to play better and they will go up 2-0" – Windhorst
"They're going up 2-0. Pacers just don't have enough" – T-Mac
Bet on Bucks?
Taking Bucks (-15) vs Pistons?
"Here's my advice: If there's a double-digit spread in the NBA, just stay away from that game" – Windhorst
Expect Donovan Mitchell to be "twice as aggressive" in Game 2?
Mitchell: 19 points, 0 assists, 5 turnovers in Game 1
James Harden is actually one of Mitchell's go to guys in terms of advice
"That's who Donovan Mitchell is. He reminds me of D-Wade a little bit in terms of him being able to maneuver through the defense, but he's a better shooter. He's got to get up 25-30 shots" – T-Mac
Like Jazz defensive game plan for Harden?
Error
This video doesn't exist
"It worked in terms of containing James Harden because he took 26 shots to get 29 points and it kept him off the free throw line" – T-Mac
"They are a great defense playing their style of defense. That was straight up bizarre" – Windhorst