Dirk receives standing ovation from Clippers fans!
Today's Panel:
---
First Half
Monologue: What should the Lakers do now?
Via Spectrum Sportsnet:
Had they won those games, this is where they'd be in the standings, compared to where they are currently:
LeBron James after last night's game, via Spectrum Sportsnet:
Weeds, everywhere. They are tangling around this Lakers team, suffocating their season and they are growing by the day
"LeBron James should sit these guys down and really help them understand what's at stake" – T-Mac
"The chemistry is not there with them since LeBron's been back. I don't know what that cause is. It's just not there with these guys. I don't see them making the playoffs at all because I don't see the urgency in them" – T-Mac
"If I were the Lakers, I would shut him down. He's getting older. He has to do too much for them to win. They weren't contending from the jump" – Pierce
"To me, I think LeBron is pretty much still injured" – Pierce
"I don't see them landing any top free agents this summer" – T-Mac
Who's most to blame for Lakers defensive lapses?
"Their defense was so bad last night" – T-Mac
"They're going to have good nights and bad nights. There's nothing they can do to put together consistent defense of effort every night because they don't understand yet. The players down the stretch, they don't understand the urgency" – Pierce
"The young guys are not the problem. It's the vets" – T-Mac
"It can't come from LeBron James. This one has to come from Magic. It has to come from a new voice" – Pierce on team meetings and talking to the players, particularly the young players
---

February 26, 1997 – Jason Kidd with the no-look bounce pass to Kevin Johnson who finishes with the layup plus the foul vs the Sixers!
---

Amends; Boogie's tech was rescinded!
Last night:

Balance; More disrespectful move?
Avery Bradley:
Boogie Cousins:

Ring Leaders; The master of the circus shot strikes again
His son's reaction afterward:

Other bobbleheads; Biggie Bobblehead night in Brooklyn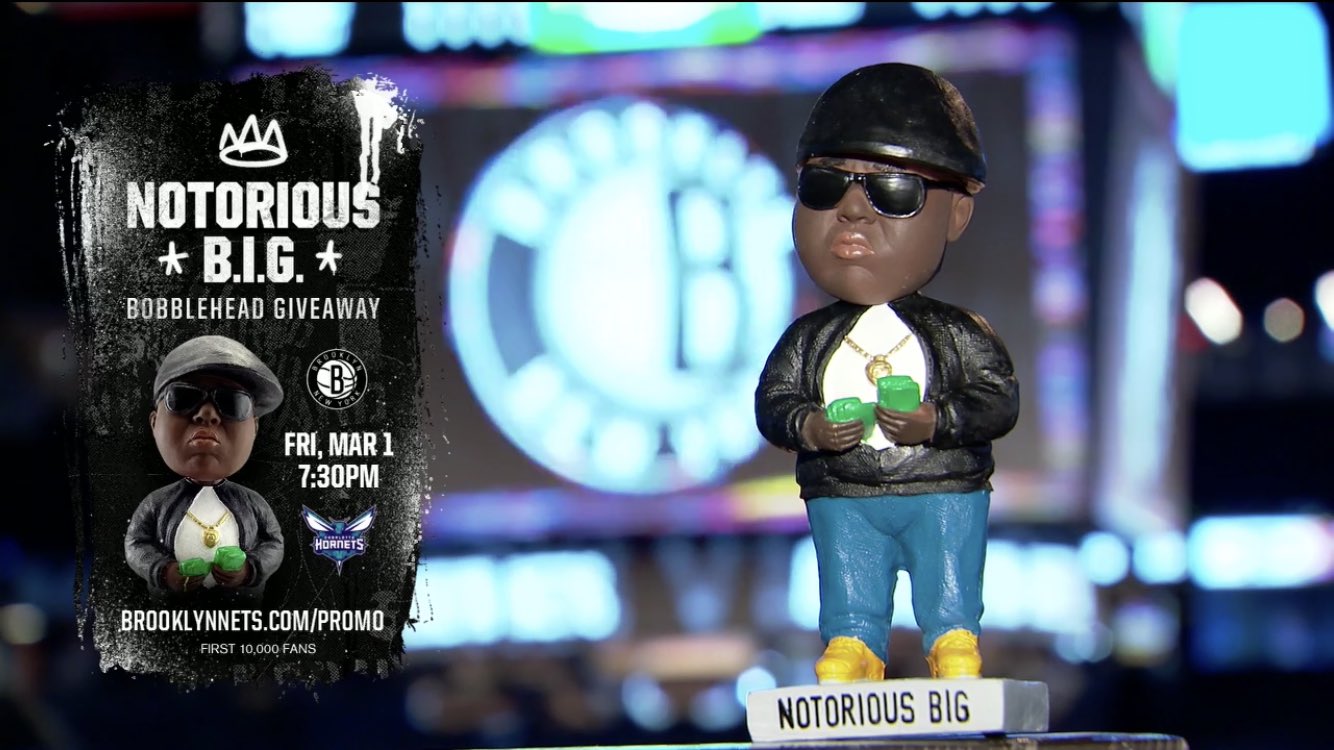 Moving on…
Spurs: 1-7 on rodeo road trip
How worried should Spurs fans be about playoffs?
Scored a season-low 85 points vs the Nets in the loss
"They're not missing the playoffs. They're fine. They had a bad road trip. Pretty bad on their part. The good thing is that they have a lot of home games down the stretch" – T-Mac
"They are a lock [to make playoffs]" – Pierce
---
Second Half
How will you remember Harden's 30 point streak?
Rockets GM, Daryl Morey called this "The Unguardable Tour"
"Needed streak to keep our heads above water" – Harden
"How many of those buckets he got unassisted. That was pretty amazing. That's like a one man wrecking ball. That's just great 1-on-1" – Pierce
"I will definitely remember how many of those buckets from him came with that stepback, sidestep because unguardable is right" – Nichols
"I'm just glad it's over. Now it's about winning ball games and trying to get a championship" – T-Mac
"The Rockets got a good chance to get into the Finals. The Finals, finals" – T-Mac
Trae Young silencing the doubters?
29.7 ppg. 8.7 apg since All-Star break
"Yes he is. He's figured it out the point guard position. The pressure is really off of him" – T-Mac
"He reminds me of Steph a little bit, as far as the shooting ability" – T-Mac
"His passing ability is very underrated. That's the best part of his game" – Pierce
Clippers still have enough to make playoffs?
"Making the playoffs is a great thing for the Clipper organization" – Pierce
"I don't think they'll be an 8th seed. They play hard" – Pierce
"They're well coached, they play hard. These guys are not going to lay down. They want to compete" – T-Mac
---
Best 25 players under 25 (E+)
---
Have Lakers hit rock bottom yet?
"No. They haven't hit rock bottom. LeBron James is not going to allow his team to go out this way" – T-Mac
"This is rock bottom for the Lakers and a LeBron James led team right now. There's too much size, media and the way the roster is built" – Pierce
"I promise you: If they don't make the playoffs, that will be rock bottom" – Nichols
Does AD's minutes restriction help or hurts Pelicans?
Scored 18 points in 21 minutes of action last night; didn't play in the 4th quarter. Davis said after the game that he did not like sitting on the bench, but was proud of his teammates
"It hurts them. If he doesn't play, this team is deep in the lottery. Having him out there gives them a chance [to win]" – Pierce
"It helps them. It gives them the opportunity to play some of these young guys and make an assessment of their team moving forward" – T-Mac
---

February 26, 2002 – Kobe Bryant with the shimmy shake and finishing the layup vs the Bucks!
---
Playoff preview?
If Pistons meet Pacers in 1st round, who wins?
Pistons beat the Pacers last night
Pierce & T-Mac: Pistons
Nichols: Pacers
For sale
Kareem Abdul-Jabbar puts 4 of 5 Lakers championship rings up for auction
"When it comes to choosing between storing a championship ring or trophy in a room, or providing kids with an opportunity to change their lives, the choice is pretty simple. Sell it all." – Abdul-Jabbar
Boban Update
Boban left game last night (Knee)
Had to be helped off the court after his right leg got accidentally tangled up by an opposing player. MRI is negative
"With Joel being out, who's their big presence down there?" – T-Mac
"Boban is a contributor" – Pierce
Rather have Celtics or Raptors roster?
"Toronto Raptors. They don't have the clutter around their locker room like Boston has. They have been steady pretty much the whole year. This roster is built to win right now" – Pierce
"Boston Celtics. I see what they did without Kyrie and Hayward" – T-Mac
Magic at Knicks
Think Magic will make playoffs?
"Orlando Magic will be making the playoffs this year. They are playing great basketball" – T-Mac
"I got Charlotte making the playoffs" – Pierce

Trail Blazers chronicle elevator scare on social media