Is Dame the most festive player in the league?
He showed up with a leg lamp that has on his own signature shoe!
On Halloween he dressed up as Stone Cold Steve Austin: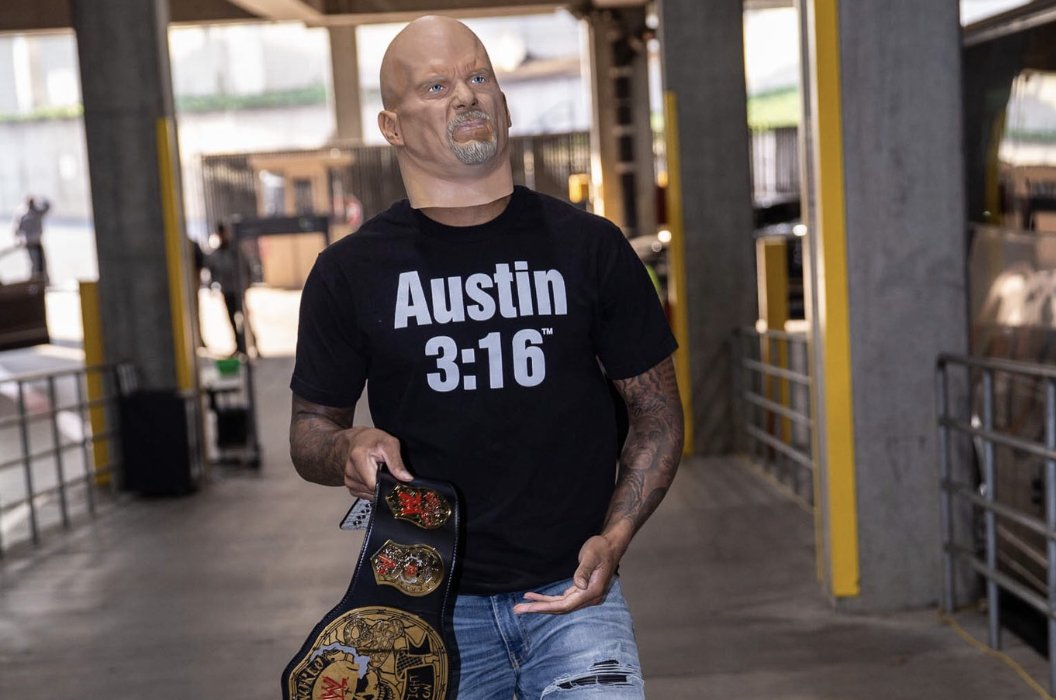 Panel:
---
First Half Hour

Monologue: LeBron's health is not a given, Lakers need to maximize his window
After LeBron left the game, the Warriors went on a 17-3 run, which at one point turned into a 2 point game. It seemed like a typical Warriors 3rd quarter title wave
The Warriors were cautious with Stephen Curry when he suffered groin injury back in November (missed 11 games):
Just because LeBron has always shown up, doesn't mean he will be able to forever
---
What did you learn about Lakers after LeBron's injury?
"This is why they brought in Rajon Rondo and Lance Stephenson. The idea is that, particularly with Rondo, when something like this happens, having a guy like Rondo who's not only been there, but also as a play maker and facilitator can just calm everybody down" – Elhassan
"Lance Stephenson's name should be 'Breaking in case of an emergency'" – Sedano
"This is a situation where the young guys can flourish here, particularly Brandon Ingram, who has struggled alongside LeBron. It gives him an opportunity for some 'Brandon Time.' This will be beneficial for Ingram because he can kind of grow back into the guy that he was being groomed to be: A No. 1 option" – Sedano
Warriors struggles with double-teams a big deal?
Someone on Twitter said that Draymond shoots like he has a backpack on!
"Klay is the guy is more important than Draymond, from an offensive perspective, is the guy to take some of the pressure off of Steph and KD" – Sedano
---

December 26, 2007 – Lou Williams (Sixers) with the nasty one-handed dunk on Udonis Haslem (Heat)!
---

Al Horford adds new twist to flinching during free throws!

Whistles; Think this was a goaltend?

Unity; Were the Celtics doing their best nutcracker impression?

Clarity; Should Giannis and Theis have been credited with assists?
Giannis Antetokounmpo vs the Knicks:
Daniel Theis vs the Sixers:

Music; Are the Jazz becoming the team we thought they'd be?
"They did because they're playing defense again" – Sedano
Moving on…
Rockets putting too much pressure on Harden?
"It probably will be, but at this point, they have no choice. They are in a hole" – Elhassan
"It's going to be too much pressure on him. It's the effort. He has to go to real lengths for them to win games" – Sedano
---
Second Half Hour

Does Kyrie need to take over more often?
Had a 40 point/10 rebound game
Kyrie after the game on what inspired him:
"I'm going to say no. The whole point about the Celtics depth is that no one should ever have to feel that burden often, even if they are capable of doing it" – Elhassan
"I don't think it needs to happen early in games, but end of games, that's what he does best. He's the closer. But he doesn't have to be the guy to carry them to 40 points" – Sedano
"The Celtics remind me of that 8th grade prom when you don't know how to lead dancing. That's kind of the thing they're doing right now. Nobody knows who's leading" – Sedano
Joel Embiid on 4th quarter/OT: "I didn't get the ball"| Joel Embiid getting enough touches for Sixers?
Joel Embiid after the game on lack of touches down the stretch:
"I'm with him. He's a guy that not only create something for you there down low or even a little further away from the basket, he's a pretty good free throw shooter too" – Sedano
"He wasn't getting great position towards the end of the game. He was floating out further and further from the basket" – Elhassan
Agent: Markelle Fultz expected back this season (Per Woj)
Raymond Brothers is his agent
"I don't think you can get good assets for him right now. He's got to go back out there and show that he's better and this is all behind him and it really was the TOS (Thoracic Outlet Syndrome) injury and not something mental" – Elhassan
"Raymond Brothers is not helping them or his client to be honest in this situation because he's just putting more pressure on the kid and the pressure has gone to him a little bit" – Sedano
---
Splash Bros. & Bad Boys Players Only Special on NBA TV
---
Rachel Nichols' 1-on-1 conversation with LeBron James where he talks fatherhood, move to LA, recruiting and more:
Highlights from the interview:
"It means everything. I mean, for me, I grew up without a dad, and I can only imagine if those words right there, how I would have been able to digest it. As a kid, sometimes it goes in one ear and out the other ear, but at the end of the day you just wanna do your job as a parent" – James on being a basketball dad
"We're a quarter through the season, I see that we can be so much better than what I actually thought" – James
"I've always recruited. I've been trying to get guys to come play with me since, like, 2007. I've got rejected a lot. But I've also have not got rejected a lot" – James
"It wasn't hard getting guys in Miami, I'll tell you that. So now that I think being in LA., I don't think it would be that hard to get guys here" – James
"I was a little pissed off when I first heard it, to be honest. I didn't know where it stemmed from" – James on KD's remarks describing the "toxic environment" that surrounds James' teams.
"I've spoken to KD, we're all good" – James
"That would be phenomenal" – James on potentially playing with his son
Think LeBron can recruit superstars to Lakers?
"It's more likely to that that'll happen via trade, then it would be via free agency. The guys who are, this particular crop of free agents [in 2019] aren't in the mode of wanting to team up with LeBron, they are in the mode of wanting to beat LeBron" – Sedano
"They [Lakers] have money. In Cleveland, they were capped out. But from a basketball standpoint, there are certain types of players that maybe don't fit as well or maybe the fit isn't as natural. Those are guys that are ball dominant. But there are other types of superstars that would fit in very well alongside LeBron James. It all just depends" – Elhassan
---

December 26, 2012 – J.R. Smith with the game winning buzzer beater vs the Suns!!!!
---
Third Half Hour
The Undefeated's, Marc J. Spears joined the panel!
Draymond's down year making Warriors decision easy in long run?
"He's concerned about it. He beat himself up in a way I've never seen him before. He blamed himself" – Spears
"I wonder how much that contract is on his mind? It's bleeding over to his play and that's kind of concerning" – Elhassan
"At the end of the day, the Warriors are going to have to take a hard look and he's going to have to take a hard look at what the market is. He's not a max player" – Sedano
"I joked with him that he had the greatest raise in NBA History. Went from $850,000 to $15M" – Spears
How careful should Lakers be with LeBron?
"Steph's advice was: Take 4 to 5 days. Why not give him some rest" – Spears
---
Durant saying nobody can recruit him?
Sedano: Nothing
"KD is probably going to change his mind a million times over. That's just who he is"
Elhassan: Nothing
Spears: Nothing
"I think KD will stay with Warriors, he's living his best life"
Ben Simmons hitting longest FG of career?
It was a 21 foot jumper
Elhassan: Nothing
"Do it again!" * Stugotz voice *
Sedano: "It could be something if he does it more consistently"
Spears: Something
"Just work on that mid-range game"
---
Blowout more about Lakers or Warriors?
"Warriors. It's just fatigue. You're tired being around each other, the jokes aren't as funny and all that stuff starts to mount up" – Sedano
"Lakers. To win that game the way they did with LeBron getting hurt and the Warriors making that comeback, they faced adversity and that's really big for their growth" – Elhassan

Report: Harden questionable against Celtics tomorrow (Bruised left calf)
Via Houston Chronicle
Last show of 2018. From the Jump Fam to your family…
Happy New Year!!!! See you in 2019!